Vitafoam Nigeria Plc is Nigeria's leading manufacturer of flexible, reconstituted and rigid foam products. It has the largest foam manufacturing and distribution network which facilitates just in time delivery of finished products throughout West African Sub region. Incorporated on 4th August, 1962 and listed on the floor of the Nigerian Stock Exchange in 1978, Vitafoam's brands remain household names in the Country.
The Company's commitment to quality in its production process has earned it several quality awards including the Gold Certificate Award for most of its products. Vitafoam was the first Foam Manufacturing Company in Nigeria to subject its quality system to the Quality Management System championed by the Standard Organization of Nigeria (SON).The NIS ISO 9002 Certificate was obtained in 2001 and upgraded to NIS ISO 9001:2008 in 2015.
The Company is consolidating its core business by the introduction of innovative value added products and services. It has become a full range solution provider for bedding and allied products. Its Comfort Centres provide a one stop shop for discerning consumers of its products.
The company has carved a niche for itself in the industry by its offer of a vast array of high and superior quality products that present the customers with multiple unique choices. Mattresses of varied resilience and texture are available nationwide. By use of contours cutting equipment, Vitafoam designs and constructs custom-made mattresses and pillows. In addition, a range of profile products that are versatile in use are offered to the market e.g. Mats (Vitarest, Leisuremats etc.) and Foam sitting chairs (Vitasolid). The needs of nursing mothers are addressed by the offering of a number of foam based baby products (Changing mat, Baby cot mattresses, pillows, breast feeding covers etc.).
Vitafoam is a responsible corporate citizen and it adopts best practices in all operations. The code of good corporate governance has been well implemented by the company and it is committed to the continuous improvement of its operations. The Company's policy is determined by a competent and dynamic Board, a mix of executive and non-executive directors who are experts in their respective fields. The Board is supported by a robust management team.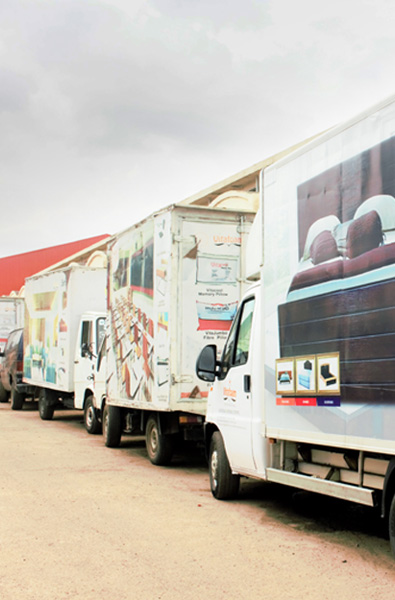 Vision
To be the foam manufacturer of first choice.
Mission Statement
"To serve customers in the consumer and industrial market segments with leading edge products that offer value for money and meet their diverse needs in functionality, comfort and style.
We will be guided at all times by our unequivocal commitment to excellence and service reliability as the basis for current success and future growth".
Company History
With its root name derived from "Vita"- the Latin word for "life", the company has since its inception, till date, worked at contributing to every aspect to its synonym from the cradle to old age. It has produced quality domestic and industrial products that add absolute value and comfort to life for work, school, leisure, health, maternity and child growth.
Established in 1962 by two giants; British Vita and Unilever, and listed on the floor of the Nigerian Stock Exchange in 1978, Vitafoam has become Nigeria's most prominent and leading producer of Polyether, foam products, furniture, upholstery products and adhesives. Its initial breakthrough however, was as a result of an appointment of G.B Ollivant Nigeria Limited as a sole distributor in 1962, and an installation of a continuous polyether foaming plant in its first factory at Ikeja in 1966.

Management staff early eightees
With an inevitable urge to expand its fast growing business, Vitafoam took a notch up the ladder by establishing the Aba Factory (Eastern Nigeria) in 1972 and the Kano Factory (Northern Nigeria). Mr. Norman Grimshaw (co-founder British Vita), on his visit to Nigeria, innovatively initiated an expansion programme for Vitafoam. With the Nigerian Promoter Decree No. 3 of 1977, companies were mandated to sell sixty percent of their share s to the Nigerian public, thus in compliance with the decree, Vitafoam became a public company in 1978. In furtherance of the expansion drive, Sapele and Jos factories were established in 1979 and 1982 respectively thereby ensuring presence in all the geo-political zones of the country.
Despite the economic downturn and industrial unrest of the mid-eighties, Vitafoam experienced a remarkable leap in performance and crossed the billion naira marks with revenue of N1.02 billion in 1995.
Vitafoam's success and performance as the fastest growing foam manufacturing company was rewarded with series of awards and encomiums including the President's award for excellence in Corporate Financial Report and Annual General meeting of the Nigerian Stock Exchange in 1999 and silver certificates from the Standard Organization of Nigeria (SON) for its manufacture of high quality products.
In 2000, Vitafoam became the first foam manufacturing company in Nigeria to win the much coveted International quality award NIS 9002 Certificate for its manufacture and sale of flexible and rigid polyurethane foam, fiber pillows, underlay and adhesives. In 2004, Vitafoam transferred her share registration portfolio to UAC Registrars Limited to enable the company focus on its key business of manufacturing and optimize potentials for growth and expansion across the West African sub-region.
In furtherance of its expansion drive aimed at leveraging opportunities across the West African sub-region, Vitafoam Ghana Limited and Vitafoam Sierra Leone Limited were established in 2008 and 2009 respectively with the former designed to operate as a trading outpost and the latter as a full-fledged manufacturing subsidiary with a state of the art plant.
The company's expansion drive was further accentuated in 2010 with the strategic acquisition of major shareholding in the then Vono Products Plc (one of the top brands in household and institutional furniture). This strategic intent was further consolidated through a scheme of merger in 2016 and eventual delisting of Vono Products Plc from the Nigerian Stock Exchange thus making Vitafoam the absolute owner of the Vono brand.
In diversification of its business into different industrial sectors, the following subsidiaries were established: Vitapur Nigeria Limited (a systems house and insulations products), Vitablom Nigeria Limited (fibre sheet processing and soft furnishing products), Vitavisco Nigeria Limited (Visco-elastic and moulded products), Vono Furniture Products Limited (household and institutional furniture- wood & metal) and Vitaparts Nigeria Limited (filter production). The diversification of the business has transformed Vitafoam from a mono-product company at inception into a conglomerate impacting the various sectors of the nation's economy through its various subsidiary companies.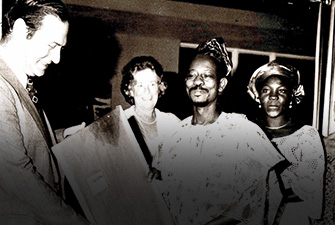 Mr. Shaw Marketing Director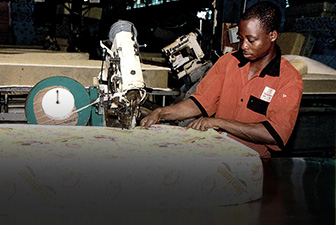 Factory operation mattress sewing
Commissioning of Vitafoam Ikeja HO 1991
Our Core Values
Integrity
Quality
Service
Sustainable Action
Respect for others